Friday, May 27th, 2011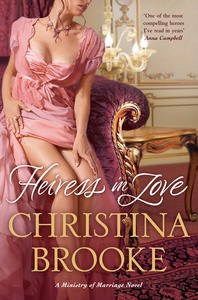 There has been much excitement in the Brooke household because copies of the gorgeous Australian edition of HEIRESS IN LOVE arrived on my doorstep yesterday. I couldn't be more thrilled with the way they have turned out — thank you, Penguin Australia! I was surprised to find an excerpt of my next Ministry of Marriage novel, MAD ABOUT THE EARL in the back as a bonus read, so keep your eye out for that, too.
I'm working on copy edits for MAD ABOUT THE EARL (affectionately known as MATE) at the moment. This is the last chance I have to make substantial changes to the book. After that, it's a final proofread and then the book is out of my hands.
The brilliant and thoughtful writer, Barbara Samuel, believes that once the writer has finished a book it ceases to be hers, but becomes the property of each reader who reads it. I love that idea. It's true, because while I put the words on the page, it's each reader's imagination that brings all of the color and detail of the story to life. I think it's another reason many of us become disappointed with film adaptations of novels. They interfere with our personal version of a book.
Loath as I am to part with it, I am going to offer a signed Trade Paperback of HEIRESS IN LOVE as a prize to some lucky person on my newsletter list. The winner will be drawn on 30 June so if you're not on the list already, go ahead and join! You can subscribe on my home page.
I look forward to meeting you.