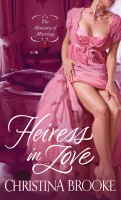 You have sold a series to St. Martin's Press. Can each book be read as a stand-alone novel? Or can the reader rather expect an ongoing storyline (even if secondary to the main plot) that will conclude in the last installment?
Each book stands alone in this series, so you can pick them up in any order and you won't be confused. However, it is best to start at HEIRESS IN LOVE.
In what order should I read your books?
Your book are set in the Regency era. What fascinated you so much that you set your stories in that time?
I grew up reading Austen and the Brontes and Georgette Heyer. I adore the wit and blossoming romanticism of the era and above all, the social constraints that force passions to simmer unacknowledged! I'm fascinated by everything to do with that era, from the significant historical events to social history and the changing role of women, to architecture, interior design and fashion.
Do your books have a HEA (Happily-Ever-After)?
Oh, of course! They're romances!
What are your heroes and heroines like?
I love my heroes. Absolutely every one. My heroes are larger than life. They take control of the story from the moment they stride onto the page. Or at least, they try! My heroines are intelligent, independent women. And when I say independent, I mean they think for themselves, which can be both aggravating and intriguing for my big, capable heroes! My Westruther heroes and heroines are distant cousins, orphans who grew up together under the Duke of Montford's roof.
What do you hope readers take with them after reading one of your books?
I hope readers feel like they've been put through an emotional wringer, only to be showered in sunshine and bonbons at the end.
Will Luke from HEIRESS IN LOVE get his own story?
I have no plans for Luke at the moment, but never say never!
Where do you get your ideas? Do you ever use personal experiences in your books?
I think a writer's personal experiences and general outlook tends to feed into her books but I don't consciously use events from my own life. Everyday life is so dull! My ideas sometimes come from research or perhaps I see a character in a movie who has a trait that I'd love to see in a hero or heroine of mine. But usually the ideas simply come out of the ether when I sit down to write.
What kinds of books do you read and who are your favorites?
My first love has always been historical romance and of course my favorite has to be the Queen of the genre, Georgette Heyer. I love the classics, Austen and the Brontes and I never miss historicals by Anna Campbell, Liz Carlyle, Madeline Hunter, Lisa Kleypas, Miranda Neville and Eloisa James, to name only a few. I also enjoy mystery writers like Elizabeth George, P.D. James and Minette Walters. I think they write characters of extraordinary depth and realism. Recently, I've been enjoying Gillian Flynn's wonderfully dark books as well as many Australian authors like Helene Young, Liane Moriarty, Kate Morton, Kimberley Freeman and Dianne Blacklock.
What do you do when you aren't writing?
Free time is spent mostly with my family and friends. I have two young sons who keep me busy! When I get time to myself, of course I love to read. I also enjoy baking and window-shopping at antique stores. I'm addicted to the BBC Antiques Roadshow and Country House Rescue. In fact, the setting for MAD ABOUT THE EARL is taken from Prideaux Place, an estate I first saw on the Roadshow and the ramshackle deVere household in LONDON'S LAST TRUE SCOUNDREL is based on some houses I've seen on Country House Rescue.
What do you like most about being a writer?
I treasure the friends I've made, both writers and readers. As for the writing itself, I get a real charge out of brainstorming stories with my critique partners. When I'm at the keyboard, I love moving into that zone where the book becomes a movie in your mind and it's almost like taking dictation as you write. I love it when the first draft is down and I get to structure and hone my writing. I enjoy not having to leave home to work, but if I feel inclined, I can take my laptop to a cafe or a park.
Do you outline your novels before you begin writing or make it up as you go along?
I make it up as I go along. I certainly have an idea of where the story is going and I have to give my editor a detailed synopsis for each book before I begin. However, usually, I discover a lot about the characters and their problems as I write. Sometimes it means a big shift in the story's focus once the first draft is finished. Luckily, my editor understands this crazy process!
How much research do you do and how do you do it?
To start with, I have a fairly good background knowledge of the Regency period. Once I fix a date on which to set the book, I refresh my memory about what happened in terms of major events at that time. Often there's one subject I need to research further before I start the story, but after I've read around that, I begin writing. Then I look up finer details as I write.

The Beau Monde chapter of the Romance Writers of America ® is a wonderful resource for those small, elusive details if I can't locate them in my own research. I don't like to leave researching those details until the end in case I forget or it changes the story in some way. I also have a fabulous critique partner who has a vast knowledge of the period, so it's reassuring to have that second pair of eyes check for errors, too.
What is a typical day for you when you're working on a novel?
I'd love to say there are typical days…*G* While I'm working on a first draft, without fail, I get up at 4a.m. every day to write new pages. The wonderful writing coach Eric Maisel recommends this both from a creative perspective and a time-management perspective and it has worked for me. If I can, I schedule a few weekends where my sons will stay with their grandparents so I can get big chunks of writing done. I find the closer I get to the end, the faster I write, so I might get up to 60 pages written in one weekend that way.
How long does it take you to write a novel? Do you work on several books at the same time?
I work on one book at a time and it takes me about 6 months to write one.
What are you working on next? When is your next book coming out?
I've handed in Beckenham's book and now I'm working on Xavier's story, the third book in the series about the Westruther men.
How do you decide on the titles for your books or what to put on the cover?
Titles are often difficult for an author to get right. Sometimes you're simply too close to the work and you don't have a good grasp on what titles are selling well and where your book is best positioned. Usually, my editor, agent and I brainstorm and come up with suggestions, but the publisher always has the final say, and that's how it should be. They know what they're doing when it comes to marketing the book and a title is a key marketing tool.

For the Westruther ladies, my editor thought it would be fun and appropriate to allude to titles of classic romantic movies. An Affair to Remember is one of my favorite movies of all time, so A DUCHESS TO REMEMBER has a special resonance for me. For the men, we decided on superlatives that are frankly over the top. I came up with The Wickedest Lord Alive for Xavier and Mad About the Earl is also mine, but my editor came up with the rest of the titles.
Does reader feedback help you with your writing?
I love getting feedback from readers and I do take notice of what readers say. I would never take a suggested storyline and write that book—I'd rather encourage the reader to write her own book! But if a number of readers tell me they want me to write a secondary character's story, I'll definitely pay attention to that.
Do you have any advice for aspiring writers?
Above all, write. So often, aspiring writers forget that the best way to improve their craft is to practice it every day. My best ideas always show up *while* I'm writing, not when I'm fiddling around, wondering what to write.

Develop good work habits so that when you sell or self-publish, you don't have trouble meeting deadlines. If you're feeling overwhelmed at how many pages you have to write before the end, just concentrate on writing one scene at a time. It's amazing how those pages build up when you set small, manageable goals.

Learn the so-called rules of good writing but don't become a slave to them. Nothing deadens a writer's voice faster than self-conscious adherence to rules. Above all, have fun!